Well I have finally, after weeks of mentioning it, followed through and created a "Look of the Day" entry! I had been meaning to a week ago only to realize that I deleted the pictures from my camera thinking I had already uploaded them to the computer. Oopsie hehe.
So me and the hubby went on a date night this past Friday which consisted of dinner and a movie(awww). Dinner was at a Thai restaurant name Thai Season. We love Thai food and have our usual spot, but we are always willing to try another place. And yet, nothing matches it. In other words, this place was not as good. It tasted good, but there was nothing about it that would make us choose it again over our fave place, which is called Taste of Thai. The movie we saw was Black Swan(finally!) Such an outstanding movie. I love Natalie Portman to begin with, and this film surpassed my expectations. You must watch it!
Now on to the good stuff....
For the face I wanted a natural look. I was all about gold and pink this night so I applied a pink gold eyeshadow all over the lid with a darker metallic brown in the crease and winged out a little. I used a cream colored shadow for the highlight shade and the inner corner of the eye. I then used a brown cream eyeliner on the top and lower lash line. Then I added brown liquid liner to the outer half of my upper lash line and slightly winged it out. I also used a small amount of brown pencil liner on my lower water line. Brownish black volumizing mascara was used to complete the eyes. For my lips I used a nude lipstick with a sheer pink lip gloss. I used a touch of bronzer, blush, and the same cream colored shadow that was used on my eyes to highlight my cheek bones.
In this photo you can see more the definition of the liquid eyeliner and the winged out effect. I chose to wear my hair natural this day, which is wavy/curly. I was not liking how it was turning out, so I did turn to my curling iron for some help. I defined the curls and used a light hairspray to keep their shape.
It may be a tad difficult to see here, but I twisted my bangs to the side.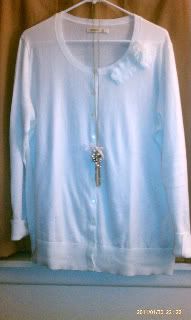 This is just a basic(yet cute) cardigan that I purchased from Old Navy(on clearance!) a while back. I love love love it. It is so comfortable and looked slimming on me(yay :]) I folded the cuffs at the end of sleeve because they were too long on me. I wore a white tank top underneath, dark blue skinny jeans, and a pair of metallic gold flats.(which all happened to be clearance items. How do I get so lucky? oh and they were bought at different times)
This is the thing about the sweater that sold me. I love this look with the ruffled flowers and finally own a piece that has it! So happy :]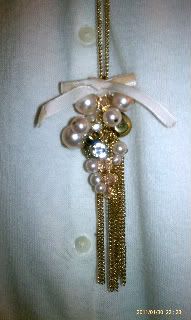 I also purchased this necklace from Old Navy and it was also on clearance. The bow is a suede material. The rest is a cluster of pearls and jewels with a gold chain tassel. This necklace inspired my makeup for this night. Other jewelry worn was just some simple pearl earrings.
I have to tell you it was fun putting this look together. Our date nights are not few and far between, but I love the feeling of getting dressed up(even if it is casual looking) for such an occasion. It is a reminder that just because I am married, does not mean I cannot try and look good for a date. Actually, I like looking good for any reason. People might think I am trying to look fancy for nothing, but I just do not see it that way. It makes me happy to take the time to look nice. Do not get me wrong though. I love not doing it too. You just have those days where you could care less hahaha.
Well I really hope to continue doing these from time to time. I do have another entry segment that I started working on today called "Copycat" which is me trying to copy a look I see in a magazine or online or wherever really. I am happy with it so far :]
Oh and I lied. I was supposed to talk about AVON, but that will be in the next entry.
Until next time, keep smiling! :D